Computer Fun Stuff
PC Senior
Safe Computer Support …
PC Senior Membership £25/Year
With an up-to-date PC Senior membership you won't need to struggle with
your computing just for the sake of having no-one to ask! As a Member you
can contact John or Sandra any time for Help/Advice
or arrange a Home Visit
at a Discounted Rate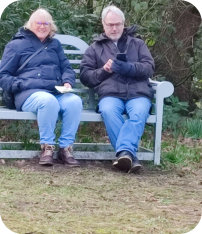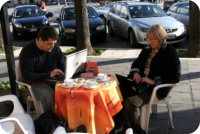 John & Sandra (Texting family)
Take it with you
(Mobile WiFi Hot Spots)
Learn to Text Messages on your
Mobile Smart Phone
It's better than using eMail when you are
out and about for a Holiday/Day Out.
Why? …. Because it can be an INSTANT
2-way conversation with your friend/loved
ones to make you all smile. Whoever you
send it to will get a "Ping" Notification on
their Mobile Phone and hopefully reply
straight away.
If you want further details/advice on any subject touched on in our
"Computer Fun Stuff" Page, feel free to eMail/ring John or Sandra (PC
Senior) at any time
Take your laptop with you on Holiday
or Abroad (Mobile WiFi Hot Spots)
Not as difficult as you think - it's no
different than connecting your Laptop to a
friends Broadband at their house.
You just need to know the "Name of the
Network" & the "Password" which they will
give you.

There are other Sites which are Free BUT, give some of them your
email Address and wait for the Junk Mail!
With the "Jacquie Lawson" Web Site, you do need to pay On-Line for an
Annual Membership (£15.00 for the year) but you WON'T receive Junk
Mail in the future and you can send as many as you like!
OR Have a Personalised Card POSTED to you
for about £3.49 from the "

Moonpig" Web Site
They do gifts etc as well. It's good fun and you can include your own
Photos OR Snap one from your WebCam. BUT I can't see an option to
send the card on a certain date, so you might need to do it a few days
before the event (You can also send abroad)
Note:
In a real hurry? …. Send your chosen card immediatly by eMail
for just 99p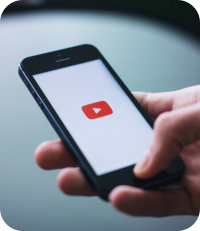 Watching a WhatsApp Video on
your SmartPhone
Learn to Share short Videos using
"WhatsApp" on your Mobile
Smart Phone
You can just about get away with
Sending 4 or 5 Photographs from your
eMail on your Smart Phone BUT it would
not cope with trying to Send a Dozen or
more holiday snaps OR a Video . You
need to Install the App called
"WhatsApp" - much the same as Text
Messaging but with attached Photos or
Videos to View as they happen!


Note:
You can use Zoom on your Desktop, Laptop, iPad/Tablet or on
your Smartphone if you have one. You can even dial in on your normal
Landline Telephone and join in a Meeting without Video!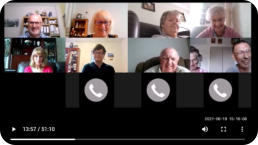 Join in a Video Call with one
or more Friends/Loved Ones
"Zoom" seems to be the preferred option to use at the moment but
you can also still use "Skype" which is much improved and similar to
Zoom nowadays …. ask PC Senior if you need help setting things up
and using the Software.
Another Web Site by YourLBwebs

PCSenior All Rights Reserved
Need to know:
Texting is used for Short Messages and Instant Short
Conversations, if you want to say more then better to use an eMail and wait
for a reply later on!
If you are on the last minute and have forgot to post
off that important Card OR you just want to send
someone a 'Get Well' or a 'Thank You' Card .... Try the
"Jacquis Lawson"
Web Site to do do it safely without
the worry of receiving Junk Mail for your trouble!